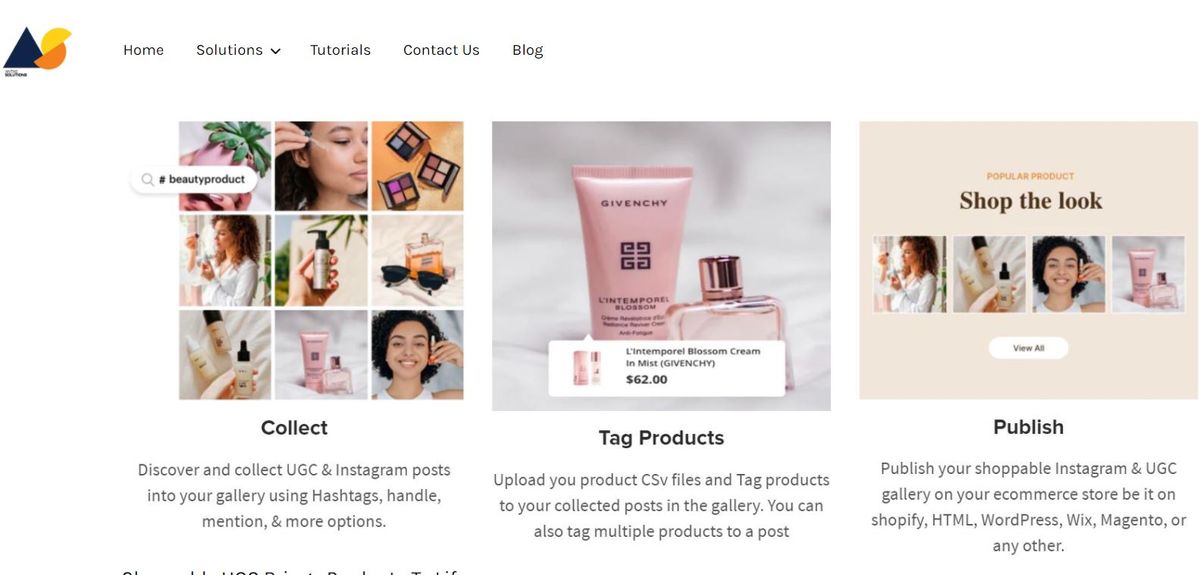 You might have seen User Generated Content (UGC) when scrolling social media channels such as Instagram but didn't realise that they are User Generated Content.
When you see come across a post by a friend using a product and raving about it and then you see the brand of the product reposting your friend's post on their own feed, that is User Generated Content (UGC)
In marketing, user-generated content (also known as UGC or consumer-generated content) refers to content related to your brand that's created by someone who's not an official representative of your business. It could be a social media update, a review, a video, a podcast, or a number of any other types. If it involves your brand, and none of your employees or affiliates created it, it's user-generated content.
As a brand marketer, the best content from the internet are actually by happy users of your product. There is no photo-shopping, or over exaggeration of the product benefits that is quite typical when it content comes from the brand owner themselves.
Product reviews, Instagram photos, unboxing videos — these are unfiltered ways of evaluating an offer that "increase shopper confidence," claims Jim Davidson, director of research at TurnTo Networks:
Consumers demand a more engaging shopping experience; they're looking to fellow shoppers to answer questions about products and share insights about purchases. This study demonstrates UGC is outpacing traditional marketing tools when it comes to increasing shopper confidence and influencing decisions
User-generated content examples
Monsoon
On its website and social media, fashion retailer Monsoon asks shoppers to share photos of its products with the hashtag #MyMonsoon.

These images are pulled into on-site galleries, enabling consumers to easily shop the looks they see. And when Monsoon started using this same UGC in its email campaigns, click-through rate increased by 14% and revenue by 3%.
Dune London's product pages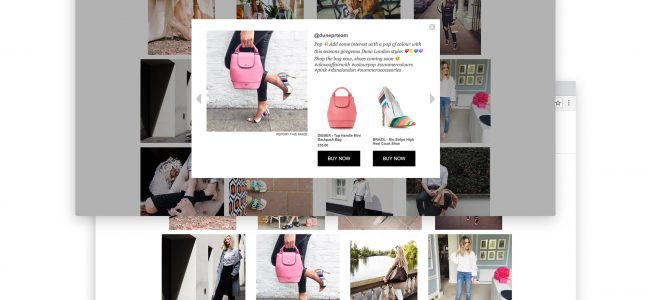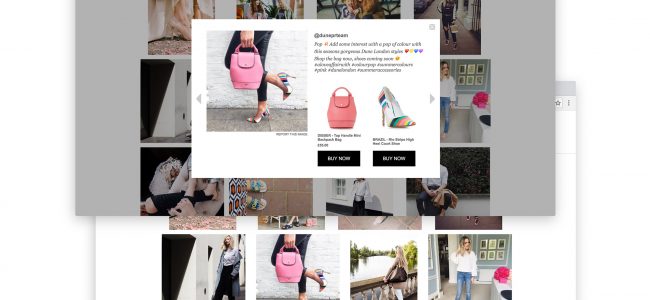 While UGC can be used effectively throughout the customer journey, one of the places it has the most impact is on the product page. The team at Dune London discovered that after adding shoppable Instagram photos to their website, which featured real customers wearing and accessorizing their offerings.
Specifically, they found that sales in which shoppers interacted with UGC increased by 82%. Mark Blenkinsop, Digital Marketing Manager at Dune London, says the reason is that the photos of others wearing the company's products gives prospects the "extra confidence to purchase."
How to incorporate user-generated content into your marketing
As is the case with any new marketing method, it's important to have a plan for collecting and using UGC. As many as 86% of marketers claim they've attempted to incorporate user-generated content into their campaigns, but only 27% say they had a strategy for doing so.
Here are a few things you'll want to figure out before launching your own UGC campaign:
Determine the goal of your UGC campaign
The effect user-generated content has on your business depends on what kind you plan to collect and how you use it. If your goal is to boost brand engagement, you can create a site where users can create branded images and videosand share them on your social media accounts like Doritos did.
Doritos launched doritoslegionofthebold.com, where fans
created everything from snack-centric weather forecasts to pictures of themselves lounging in piles of nacho chips. Doritos keeps users engaged on the site with public challenges, such as its "oddly satisfying challenge," which invites creators to make "hypnotizing" videos for a chance to be featured in its Instagram Stories.
And the fan-made content, such as the post below, receives thousands of likes and comments.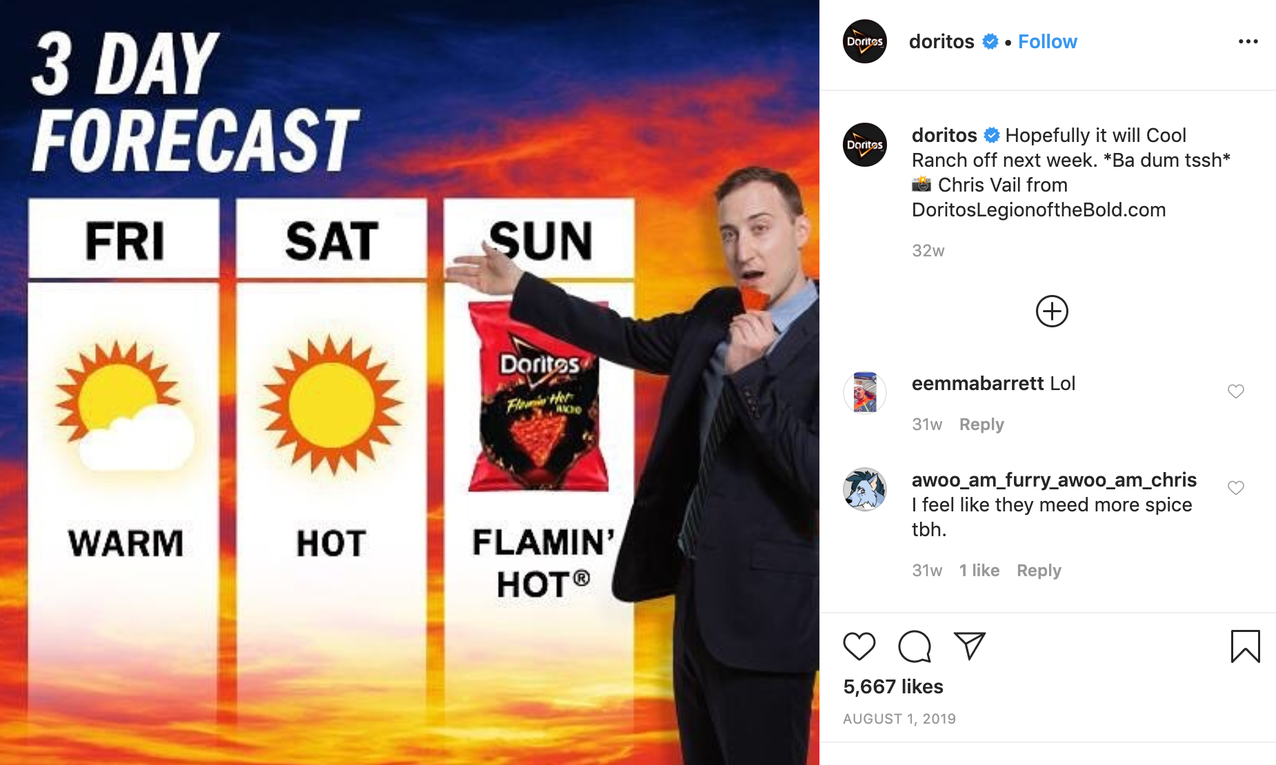 Why it works
The content from this campaign is outrageous and funny, so it's no surprise that it drives a lot of engagement.
But Doritos isn't just sharing photos of people enjoying its product with its Legions of the Bold campaign. It's actually driving users to its website and providing them with tools to create one-of-a-kind content. And giving fans the opportunity to create their own works of art makes consumers feel connected to the brand.
If your goal is to boost website conversions, a campaign that solicits customer reviews, like this one from Amazon, can help you earn the social proof you need to make the sale: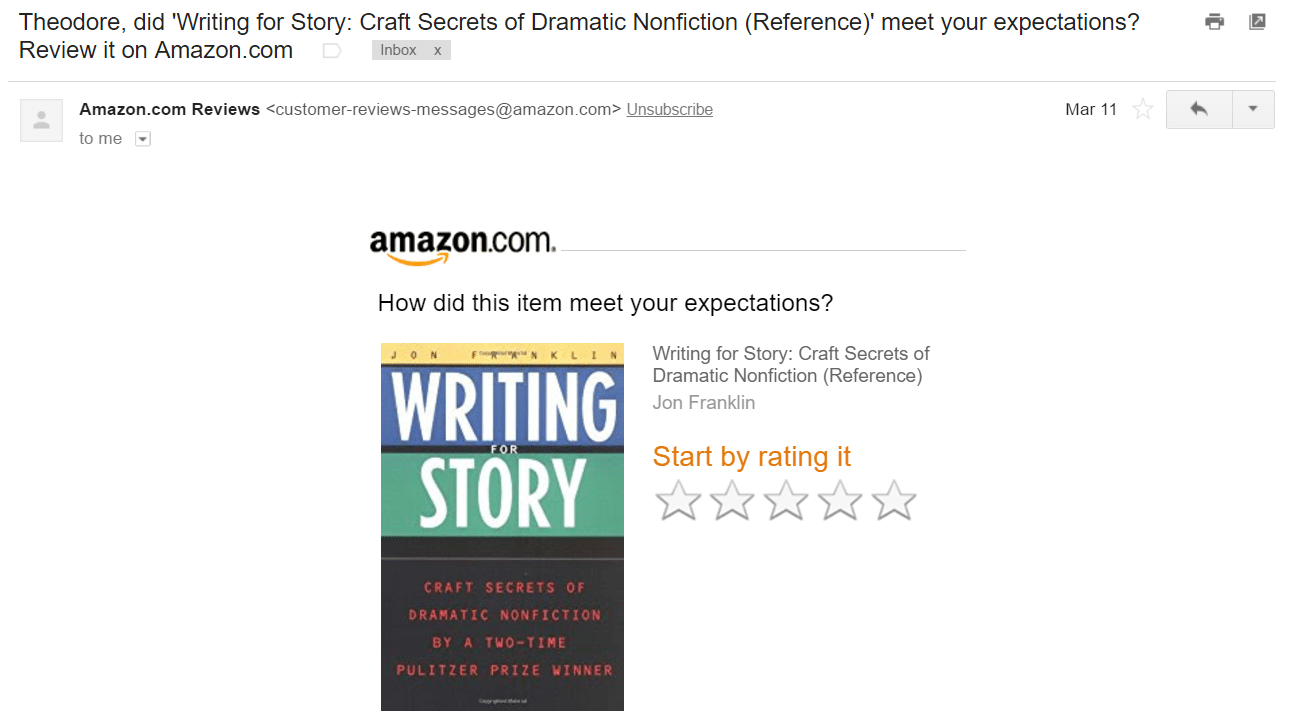 Remember that the goal of any UGC campaign is to generate content that your customers actually use to inform their buying decisions. You want more than pretty pictures uploaded to Instagram.
Make sure, before you start creating hashtags and calling for content, that you know what you want to accomplish with your UGC once it's generated.
Create a system to collect consumer-generated content
Collecting on social media with a branded hashtag can be a little trickier since ownership rights over photos and posts can be a bit harder to earn. By collecting UGC via an app or portal such as Antas Solutions is offering, companies can be confident that what they collect can be used in official advertising campaigns without legal issues.
Be clear about what you want and what you're willing to offer
If you run a campaign to collect UGC, make sure that the rules are made clear to your audience and that you offer a reward proportional to the effort involved in creating the content. Here's a great example from National Geographic's campaign.
Skim through those terms and conditions and you'll find no confusing legalese. All the rules and prizes are written in plain language to make it easy for any member of the company's audience to comprehend.
Consult legal specialists
Running a consumer-generated content campaign is anything but straightforward from a legal standpoint. Rules surrounding giveaways are often complicated depending on your location and medium of collection — as are your rights to any content generated by your users. You'd be wise to consult legal specialists before using any UGC in your marketing.
Be prepared for anything
Jill Byron is the Vice President of Marketing at Mode Media. In an article for Advertising Age, she offers some advice to brands who want to be "more authentic," which is also valuable for companies looking to solicit user-generated content.
Don't sell your product -- stand it up and let it run. Let everyday people, professional creators and experts communicate their love or need for your brand in their words and style. Be willing to be criticized or attacked. There's real value in finding out things you may or may not want to hear.
Keep in mind that some of these "everyday people" don't always have the best intentions when creating UGC. In the past, brands that haven't monitored user submissions closely have faced PR nightmares sparked by internet trolls.
Make sure you have an employee dedicated to catching anything potentially harmful to your company before it's seen by too many users. Or, take the National Geographic approach by making all your users submit content via your website. That way, the odds of anything offensive reaching the public become much lower.
Learn from negative UGC, but showcase the positive
UGC allows consumers a more authentic buying experience, but at the end of the day, you're still a marketer. Content that criticizes or attacks your brand should be taken into consideration, but not spread to the masses.
Monitor your submissions closely and pick only the best pieces of user-generated content to work into your company's marketing campaigns.
Foster a community that wants to share
Beauty brand Glossier drives engagement with its social content by encouraging customers to get vulnerable and share their selfies. It does this by posting customer stories that are often heartwarming, as well as numerous photos of people using Glossier products.
In fact, the beauty brand relies more on customer-submitted imagery than it does on models and product shots. It even attributes 90% of its revenue to its fans, who eagerly take to social media to post photos of themselves using and wearing Glossier products.
For example, when the brand launched its Mega Greens Galaxy Mask, thousands of users shared selfies of themselves in the mask with the hashtag #maskforce, which Glossier reposted on its own social accounts.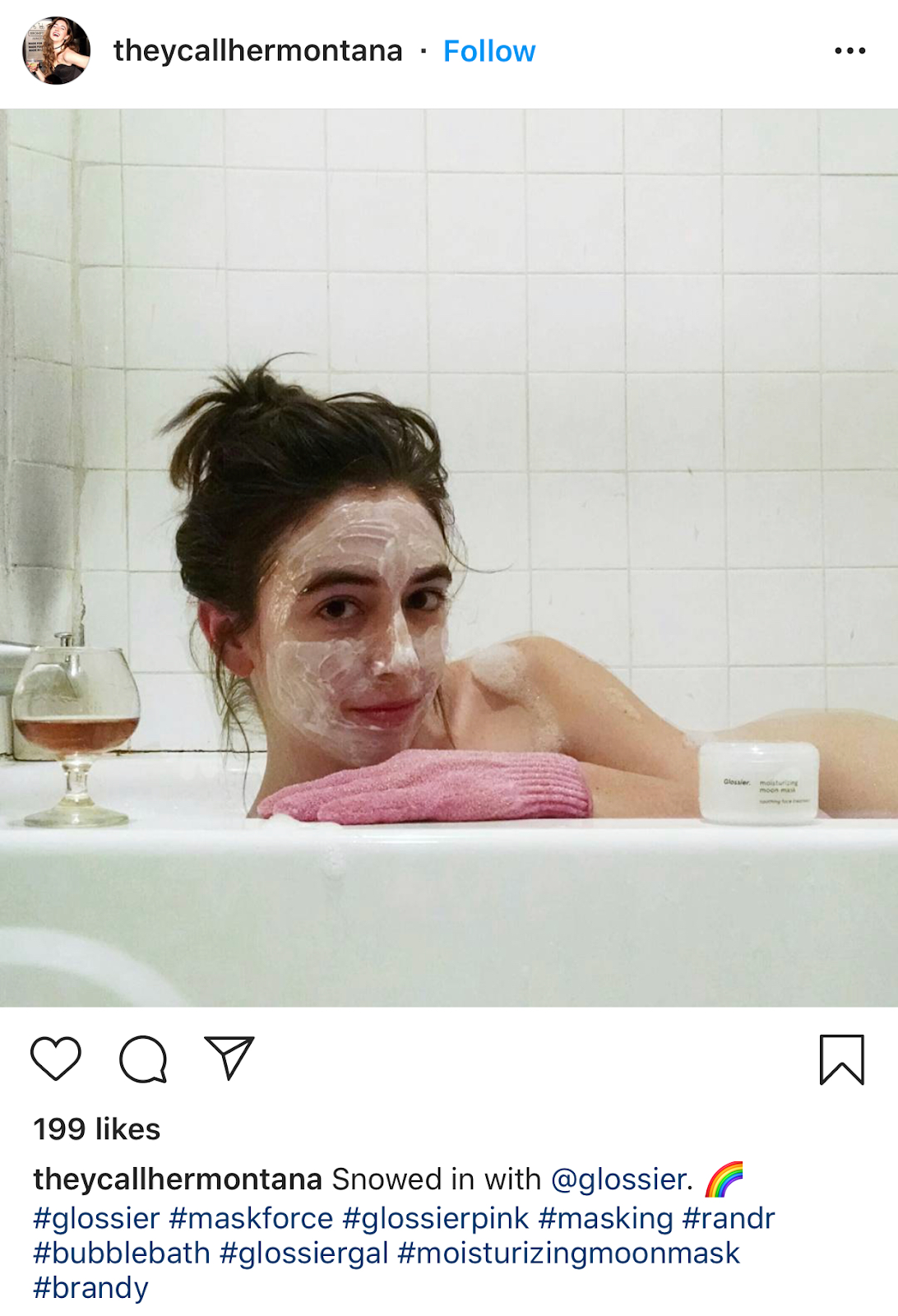 Why it works
The #maskforce selfies are unique, feminine, often humorous, and 100% real, making them right on-brand for Glossier. The company aims to make "every single woman . . . an influencer," according to founder Emily Weiss, and Glossier's sharing of user-generated content does exactly that, giving every user a chance to be the face of the brand.
User-generated content illustrate how you can empower customers to do word-of-mouth marketing on your brand's behalf. But in order to take advantage of UGC marketing, brands must provide consumers with opportunities to share their creations.

Invite customers to post content with a specific hashtag, share user photos on social accounts, or add an on-site shoppable gallery, like Monsoon's.